Yes you Can Enjoy 3D on your Standard TV
This tutorial is to show you how to watch the 3D H-SBS videos now showing up on the site.
A majority of these files are 1 GB+ in size, so you'll need the free registered account with sharebees to be able to download them!
If you are still having issues after using this tutorial, please check out the help/FAQ thread:
viewtopic.php?f=24&t=72260
(Please don't think the picture quality of the screenshots below is an indicator of the quality of the 3D files... This is just a crap video I pulled off youtube!)
*Note - Once the search updates (once a day I think), using the search term "H-SBS" will list them for you!
What is H-SBS
First off, the H-SBS format is an ancronym for (H)alf (S)ide (B)y (S)ide...
Meaning, in each frame of video, there are actually 2 frames, compressed side by side.
Why? This was decided on by the cable television industry people, so that they could broadcast 3D while still using a standard 1080 signal.
So... In a normal player, instead of this: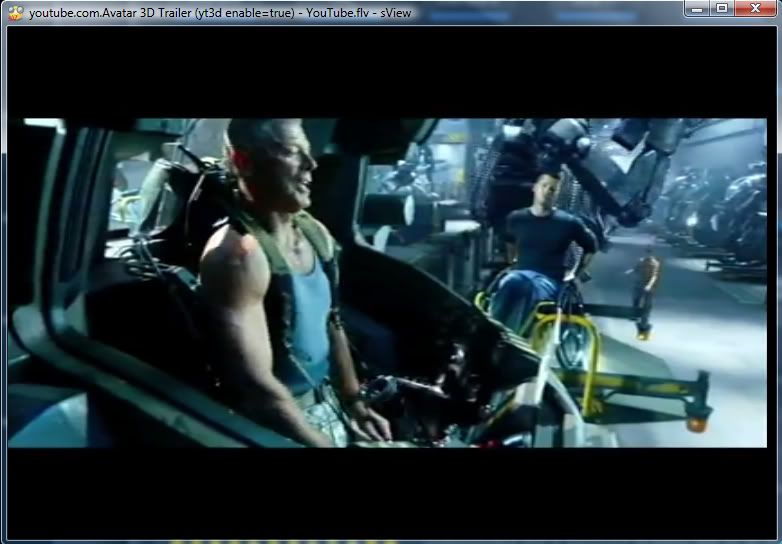 You see this:
Understanding this is important to being able to do the settings properly in the two programs I'll be walking you through setting up!
Using with a 3DTV:
There are a few ways play these videos on your 3DTV (If you have one)...
1 - Load the video onto a USB drive, plug it into your TV.
2 - Have your TV connected to your computer with HDMI... Drag the video over to the TV and go fullscreen
3 - Using xbmc with the icefilms plug-in
Of course go into your TV's settings and turn on 3D... Some have a 3D enable/disable button right on the remote!
Viewing with NON-3D Equipment:
Don't have a 3DTV? There are computer programs that can help with that!
Here are guides to use a couple free 3D video players...
*Note - These players are both able to play .part files, so you can watch while downloading!
Setting up sView:
You can get sView from here:
http://www.sview.ru/download/sViewLast
Make sure you get the latest player, because earlier versions didn't have subtitle support!
There are some settings you need to do to get it working... Don't worry, they are "sticky" so you don't have to do them again unless you make changes!
Step 1 - Tell the program you are using SBS files.
Step 2 - Make sure your glasses settings are correct.
Step 3 - Tell The program how you want to view the video.
*Note - A simple change here, is that if you decide you DON'T want to watch the video as a 3D anaglyph... just choose "Left View" or "Right View" to get the full frame picture... The video will now look just like a regular 2D video!
Step 4 - Set the aspect ratio.
You have to do this step twice... Once to set the aspect ratio to 16:9, and a second time to tell it to always use it.
Some Extra Settings:
I won't go into details on these, but they are fairly straightforward.
- To turn on the subtitles, follow the "Subtitles" menu.
- To change the audio source (Some have mulitple audio streams!), Follow the audio menu.
- Also in the audio menu, you are able to tell the program what audio device you want to play the audio with. YOU NEED TO RESTART THE PROGRAM TO HAVE THE CHANGE TAKE EFFECT! But this is great for having your TV connected with HDMI and moving the video over and activating fullscreen... The sound can go as well!
Setting up Bino:
Bino is, well, a different beastie...
The idea is exactly the same as with sView, but the controls for what you need to set are at the bottom, and they have to be done each time you restart the program. The settings are simplified to only two clicks!
You can get Bino from here:
http://bino3d.org/
The steps:
1 - Set your input to the type of file... In our case, it's Left/right Half Width...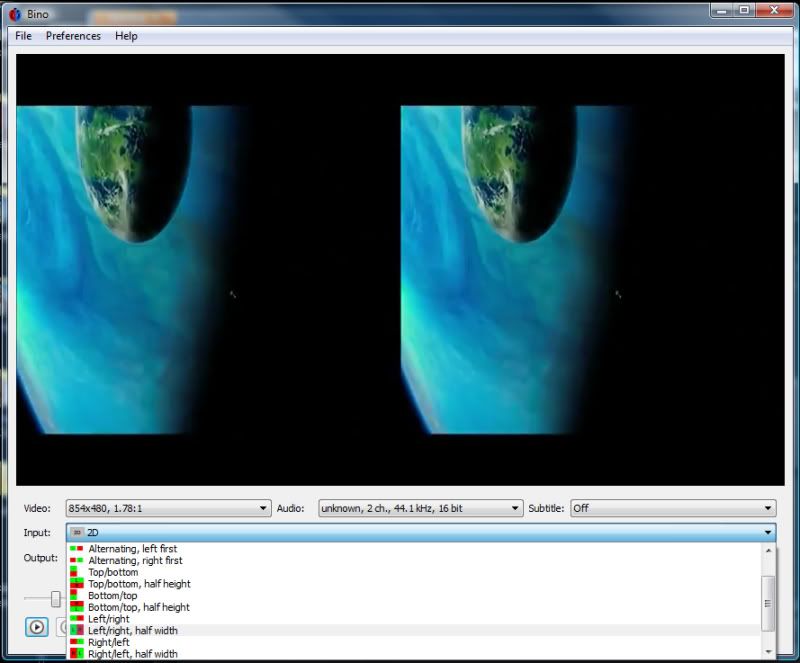 2 - Set the output you want... In the example below, it's full color anaglyph...
*Note - If you want to watch it as a regular 2D video, just choose "Left View" or "Right View"
3 - Double click the video area for fullscreen!
That should be about all you need to know! Enjoy the movie!