Forum rules
Anything goes here... you silly, silly people. That is, anything goes unless its On Topic.... if that makes sense.... i dunno... i confuse me...

oh also no advertising or Banned...
It was like the wastelands without this site!
---
The One
Posts: 6000
Contact:
Yes we are a Beacon of hope in these trying times of The Copywrong Trolls... We try to bring hope and entertainment to the enthusiastic masses.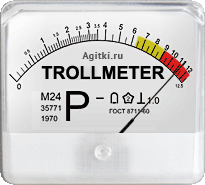 ---
Who is online
Users browsing this forum: No registered users and 4 guests